High-Performance Automatic Machinery
For high-volume production of export boxes.
• Dimensions (l*w*h): from 300x200x200mm to 2500x1500x1600 mm
• Cycle time <60 sec per box "one box per minute"
• Manning - 2 or more operators
The machines can be equipped for different automation levels.
The sweep line
Manufactures assembled and folded boxes placed directly on out pallets. The machine can be set up with different options as well as different types of frame profiles.
• Manning: 1 operator (2 operators simplified version)
Cover frame machine
Fully automatic and manufactures the steel frames for the covers.
• Steel dimensions: 50 * 0.6-1.5 mm
• Cycle time ~ 30 seconds (4 m profile)
• Fully automatic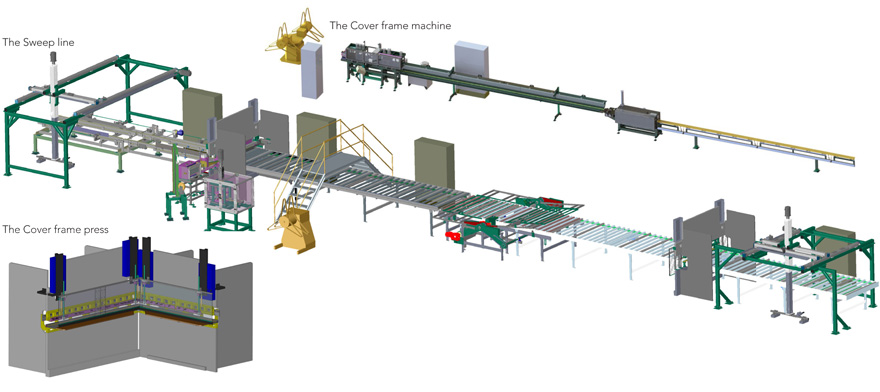 Cover frame press
Quickly adjustable for different dimensions.
Manufactures a cover with a steel frame (made by the cover frame machine) and a plywood board.
• Cycle time: 25 - 45 seconds (depending of size and operator)
• Manning: 1 operator

All machines are integrated with a sophisticated superior graphic database. The database also has an automated design module, enabling total control of the design and fabrication of the boxes. The database also has a built-in order module to store data on previous deliveries.